AARTD team in Hefei at the Feed Expo

The China Feed Expo will be held in Hefei from April 22-23 at the Hefei International Convention and Exhibition Center.
The main focus will be on feed raw materials, feed and feed additives products, pet food, special animal feed, feed processing machinery and equipment and accessories, feed product quality detection and equipment, feed with computer control system and soft hardware, feed formulation of new technology such as: animal health care products, veterinary medicine, medicine additives, livestock and poultry aquatic breeding and processing equipment, animal husbandry machinery and equipment, grass products and Prataculture machinery and equipment, testing equipment, technology consulting, investment and financing and personnel recruitment. 
Three members of the Asian Agribusiness Recruitment Training and Development team will be attending the Feed Expo in Hefei.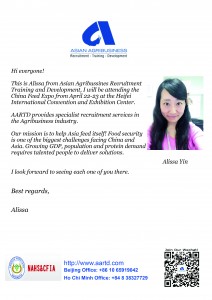 Ms. Alissa Yin will be at the Feed Expo in Hefei.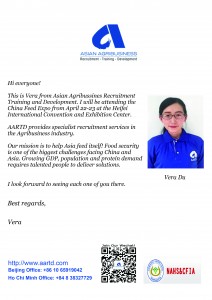 Ms. Vera Du will be at the Exhibitions.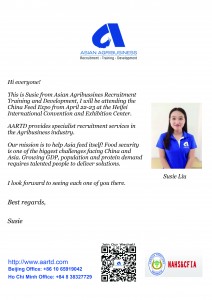 Ms. Susie Liu will also be at the Exhibitions. 
Visit our website: www.aartd.com
Add us on wechat: AARTD-Beijing