Alaskan seafood could get snared in tariff net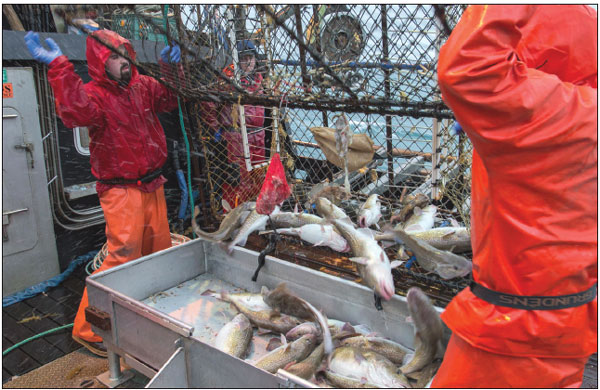 Alaska's seafood exporters are concerned about the impact new tariffs from China could have on their industry.
After the US last week released a list of goods on which it will place 25 percent tariffs, China reciprocated on American goods, including Alaskan seafood.
The tariffs will go into effect on July 6. The new 25 percent tariff would be on top of current ones that vary from 5 to 15 percent.
Alaska exported 40,000 tons of salmon to China last year. Other Alaskan products on the list that appear to be impacted include geoduck, sea cucumber, frozen salmon, pollock, Pacific cod and sole.
"We are still waiting to gain more details — a full product list and product specific classifications. Initial indications are that products exported to China for reprocessing and re-export (to other countries) may be exempt from this new tariff," Alexa Tonkovich, executive director of the Alaska Seafood Marketing Institute (ASMI), told China Daily.
"China is a major reprocessing center for Alaska seafood, so how these tariffs are applied has a major impact. Either way, many Alaska seafood products for domestic consumption in China would be subject to the new tariff," she said.
ASMI has been promoting Alaskan seafood in China for more than 20 years.
"Alaska seafood companies have also invested in the market and have many Chinese partnerships," Tonkovich said.
More than 10 major e-commerce platforms in China, including tmall.com, promote Alaska seafood during the commercial fishing season.
Last year, in addition to salmon, king/snow crab, black cod, halibut, cod, sea cucumber and yellowfin sole, new products and deep-processed/ready-to-eat products such as pollock roe, pollock hamburger and nuggets were sold on tmall during the promotion. The sales were triple those during the non-promotion period and hit 90,000 kilograms.
"We are deeply disappointed in these retaliatory tariffs. There is no connection between the products targeted by the US and the tariffs Beijing plans to impose on exported American seafood," John Connelly, president of the National Fisheries Institute, said in a statement.
"It is Maine lobstermen, the men and women on boats in Alaska, and families harvesting and processing seafood in the Pacific Northwest who will feel the brunt of the Administration's misguided policy. It is not clear where these trade actions will ultimately lead; what is clear is that they will negatively impact American seafood jobs," he said.
Based on the data from the McDowell Group for ASMI, more than 21,200 rural Alaska residents were directly employed by the industry in 2015.
Major seafood processors that could be affected include Trident, Peter Pan, North Pacific and Alaska General.
In March, Alaska Governor Bill Walker announced a major initiative to build on the economic relationship between Alaska and China and led a 12-day trade mission to China in May.
Fifty representatives from 30 companies in Alaska, from sectors including fisheries, tourism and investment, had participated in business-to-government and business-to-business meetings, networking opportunities, events and market briefings to promote Alaskan business opportunities in China.
Since 2011, China has been the top consumer of Alaskan goods. In 2017, Alaska exported $1.32 billion worth of goods, including $796.2 million in seafood and $64.6 million in fishmeal, employing thousands of fishermen in Alaska. The state also exported $355.8 million in mineral ore, $49 million in energy, and $48 million and $5.9 million in forest products and machinery, respectively.
Jeff Welbourn, senior director of Trident Seafoods Corp's China office, told China Daily that his company, one of the largest seafood harvesters and processors in North America, is making its biggest investment since it was founded in 1973 in infrastructure to accommodate the Chinese market.
"Alaska has abundant resources, from natural gas and seafood to beer and baby food. These resources enable our state to dramatically reduce the trade deficit between the United States and China, if we can finalize agreements to increase exports of our products," Walker said Monday in a statement related to the tariffs.
"Trade negotiations between leaders from both countries are ongoing. I am confident that we will, in the end, embrace the opportunity for mutual economic growth that we can achieve by working together," he said.
Chinadaily.com