Australia considers import of Vietnam fresh shrimp
VNA Wednesday, September 14, 2016
Processing shrimps for exports (Photo: VNA)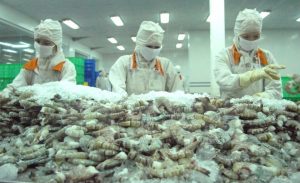 Sydney (VNA) – Australia is willing to consider the import of fresh shrim
p from Vietnam, which is expected to start in early 2017.
The Australian Department of Agriculture and Water Resources expressed the willingness at a working session with Vietnamese Deputy Minister of Agriculture and Rural Development Vu Van Tam during his working visit to Australia from September 8-10.
This constitutes a brilliant opportunity for the shrimp sector as shrimp is consumed most among seafood products in Australia with up to 50,000-60,000 tonnes per year.
As such, Australia must import an average of 30,000 tonnes of shrimp each year. However, strict regulations, especially those on disease control and biological safety, make it difficult for Vietnamese shrimp to enter the market.
Director of Animal Health Department under the Ministry of Agriculture and Rural Development Pham Van Dong said the department has built an action plan on disease control in order to ensure no disease-plagued shrimp is present in Australia.
In recent year, seafood diseases have been put under control thanks to the Government's investment in human resources and testing equipment, he said, adding that Vietnam is capable of meeting Australia's requirements on fresh shrimp exports.
Deputy Managing Director of the Vietnam – Australia Group Dang Quoc Tuan stressed the importance of ensuring biological safety in the production value chain to trace the origin of the product.
Therefore, the group has cooperated with leading national and global universities and institutes to establish the Standard Operating Procedure (SOP) to ensure maximum biological safety, he said, adding that the post-examination procedure also receives special attention.
To satisfy the Australian market's requirements, businesses need appropriate investment and professional management to develop a national brand name for Vietnamese shrimp, thus promoting its value, he suggested.
The Vietnam-Australia Group also pays heed to controlling diseases in separate stages of production while conducting daily, weekly and monthly inspections, he noted.
He expressed his confidence that the group will have an opportunity to export fresh shrimp to Australia in the coming time after Australian competent agencies come to Vietnam for evaluation and testing in the fourth quarter of 2016.
Australia is ranking fourth among countries with high demand for shrimp imports from Vietnam, he said.
That Vietnam could become the first exporter of fresh shrimp to Australia will help businesses increase exports to other markets as Australia is one of the countries with high requirements on biological safety as well as food hygiene and safety, he added.-VNA
Source: http://en.vietnamplus.vn