Fierce battle in dairy market anticipated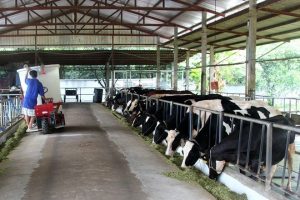 VietNamNet Bridge – The dairy market is expected to become hot as more free trade agreements (FTAs) take effect, bringing more foreign producers to the Vietnamese market.
Analysts say powdered milk is now a playing field for foreign producers, who hold 70 percent of the market share. The liquid milk market segment is led by Vinamilk, a Vietnamese producer which holds 50 percent of market share.
Pham Thi Kim Oanh, director of DFB Hanco Nutrition, said that 3 percent milk material tax cut would have no significance to producers, but 7-10 percent tax cut on finished products will attract foreign firms.
Euromonitor, a market analysis firm, commented that the 'heat from FTA has caused Vietnamese enterprises to transpire'. The production cost of dairy products in Vietnam is $1.4 per liter, which is higher than $1.2 per liter in New Zealand and Australia. Vietnamese dairy producers would find it difficult to compete with imported products once the import tariff is removed.
Meanwhile, according to Bloomberg, New Zealand's dairy industry would be able to save $102 million a year once TPP (Trans Pacific Partnership) Agreement takes effect thanks to the tax cuts.
However, analysts think the Vietnamese dairy market, with high annual growth rate of 17 percent in 2011-2015, is large enough for Vietnamese producers to find advantages and compete with imports.
Increasing the investments in liquid dairy products is the choice of the majority of Vietnamese producers, who dare not enter the powdered milk market segment as it is impossible to overthrow foreign producers.
Analysts commented that fresh milk is the 'cure-all' for Vietnamese enterprises.
Vietnamese enterprises still have reason to be optimistic. The prospects of the dairy industry in Vietnam are bright because of the high population, increasingly high income per capita and improved living standards.
Analysts estimated that the industry would see an annual growth rate of 9 percent in the time to come with average consumption level of 27-28 liters per head per annum by 2020.
Since liquid products are the only 'weapon' for Vietnamese enterprises, they have been trying their best to develop herds of milk cows. Most dairy producers now develop farming to take initiative in the material supply.
However, dairy producers have been warned about risks with their current farming model. Some agricultural experts from Israel said that the farming method followed in Vietnam (breeding in cages) may increase farming costs by four times more than grazing.
In Vietnam, fresh raw material milk is collected for VND13,000 per liter on average. The price is just VND8,000 in Australia, New Zealand and Ireland.