High temperature leaves sea cucumbers dead, farmers devastated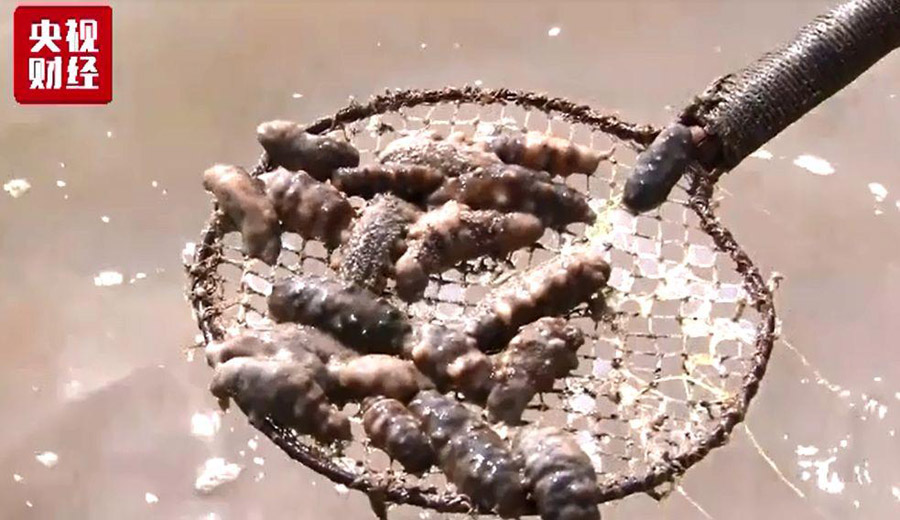 High temperatures have caused deaths of sea cucumbers in a large area in Northeast China's Liaoning province this summer, China Central Television reported.
Sea cucumbers die and decompose when the water temperature rises above 30 C, said Yu Chang, a farmer who has been raising sea cucumbers for more than 10 years.
The water temperature was about 25 C to 26 C in past years, but this year, the temperature reached 35 C to 36 C around 2 pm in recent days, Yu said.
The high temperature wiped out sea cucumbers in 90 percent of his pools with a total area of 1,000 mu (about 666.7 hectares), Yu said. The pools had an annual output of about 25 tons of sea cucumbers in past years.
Based on the current prices of sea cucumbers sold in the market, the loss will reach about 10 million yuan ($1.46 million) this year, Yu said.
In Dalian alone, farmers will suffer about 6.8 billion yuan loss.
According to local fisheries departments, sea cucumbers began to die across the province from July 28, and the animals first to go were in pools with a depth less than 7 meters.
Now many farmers have hired divers to fish out sea cucumbers, hoping to reduce the loss. Some divers said that lots of dead sea cucumbers have turned into a state of glue in the water.
However, Yu said the sea cucumbers will not be sold in the market as they do not meet the standard, and will be eaten by farmers themselves or given to their friends.
Local authorities have invited experts to help farmers. Lin Yun, an engineer from Panjin, said that farmers could take steps to enrich water oxygen to lower the death rate.
Zhou Wei, professor from Dalian Ocean University, said using ice blocks to cool off pools was not a proper way, and it was always best to change water during the tide.
Zhou said that dead bodies should be taken out of the pools in time, because an infection will cause more deaths of other sea cucumbers.
CCTV reported that the loss happened mainly to sea cucumbers raised in pools, and those raised on the sea bed beneath 30 meters of water did not die. Farmer Sun Gang said the high temperature did not influence his sea cucumbers.
Farmers use three ways to raise sea cucumbers, in pools, in cultivation houses and under the sea. The first two ways have an advantage of sea cucumbers growing fast but a disadvantage of poor flow of sea water.
Starting from 2014, Dalian started to offer an insurance program to cover the loss caused by high temperature, but only two farmers bought the insurance this year.
Wang Mingli, chairman of sea cucumber association of Wafangdian, said many farmers were left in tears. Farmers in Wafangdian raised sea cucumbers in pools with an area of about 500,000 mu, and 90 percent of the pools suffered losses.
Wang Mingli said that the association is negotiating with the government and banks, expecting banks to offer loans to farmers.
By Guo Kai | chinadaily.com.cn |