Real economy targeted in bid to create job opportunities
Support measures will help ensure every worker has the skills to guarantee employment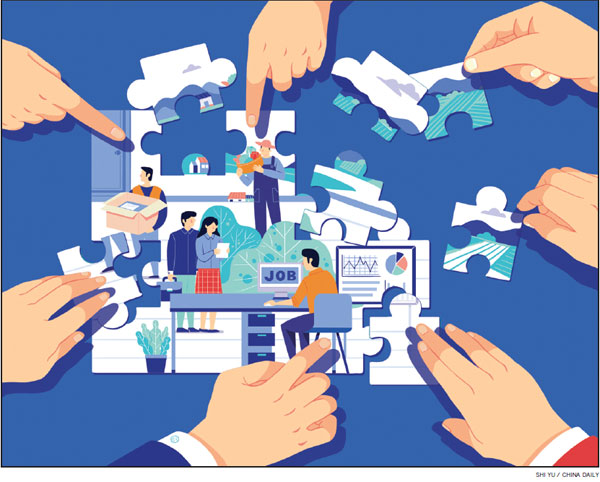 Workers affected by industrial restructuring or trade frictions will be quickly included in China's public employment service system, to help improve their prospects, while new growth drivers will be further cultivated to provide more high-quality jobs, according to a new guideline.
Though the current job market is stable, the document is aimed at countering risks brought by challenges that may arise from the domestic industrial restructuring as well as uncertainties in the international community, experts said.
The guideline was released last week by 17 State Council departments, led by the National Development and Reform Commission, aiming to inject new vitality into the world's second-largest economy and improve people's lives by ensuring growth of the real economy and their incomes.
The 10-clause guideline urged to develop new businesses, including smart manufacturing and digital economy, transform traditional industries and encourage business startups to provide more and higher-quality jobs. It also called to accelerate the agricultural supply-side structural reform to make new-type farmers. People are encouraged to start their businesses after returning homes, while urbanization should be promoted to expand employment for those living nearby cities.
The most eye-catching part was that more concerted efforts will be made to help enterprises that have advanced technologies and push forward its industrial upgrading, but are in temporary difficulties resulting from trade frictions.
These enterprises were encouraged to keep as many current posts as possible for employees. The employment subsidies should be fully used to embrace people affected by industrial restructuring and trade frictions.
Employment has been a priority for the central government.
In the past five years, more than 66 million new jobs were created in urban areas, according to the Ministry of Human Resources and Social Security.
Last year, the income per capita went up by 7.3 percent year on year, outpacing the economic growth, while 13.51 million jobs were created for those living in urban areas.
In his Government Work Report delivered in March, and Premier Li Keqiang set a target of more than 11 million new jobs in urban areas for this year and controlling the urban surveyed unemployment within 5.5 percent.
Li said in the report that the annual GDP growth target of around 6.5 percent is able to ensure full employment.
Exports contribute much to economic growth and also the job market considering the country's large working population, said Chen Fengying, a senior global economy researcher at the China Institutes of Contemporary International Relations.
Trade frictions may lead to difficulties in the real economy, especially for some manufacturing sectors with major overseas customers, Chen said.
Uncertainties brought about by the frictions could hurt domestic employment as manufacturers will have to cut some jobs if faced with rising costs and shrinking profits, she said.
The guideline had detailed ways to spur job creation and maintain stability in the labor market by stabilizing market expectations and providing supportive measures, Chen said.
It can be seen as a pivotal move to prevent risks in the decline of new jobs, she said, adding that this year's targets should be fulfilled if all measures are properly carried out.
In the first half of this year, GDP grew by 6.8 percent, compared to the same period last year, according to the National Bureau of Statistics.
From January to May, the number of new jobs in urban areas hit 6.13 million, 56 percent of the year's target, while 2.3 million unemployed people in cities found new jobs.
As administrative and business reforms proceed in the country, new growth drivers are emerging to boost employment with a large number of newly-registered market entities, said Mo Rong, deputy president of the Chinese Academy of Labor and Social Security. The first quarter saw 1.32 million new enterprises being registered and business startups have continuously increased employment, he said.
By Hu Yongqi | China Daily |