Tariffs' toll hits each state: study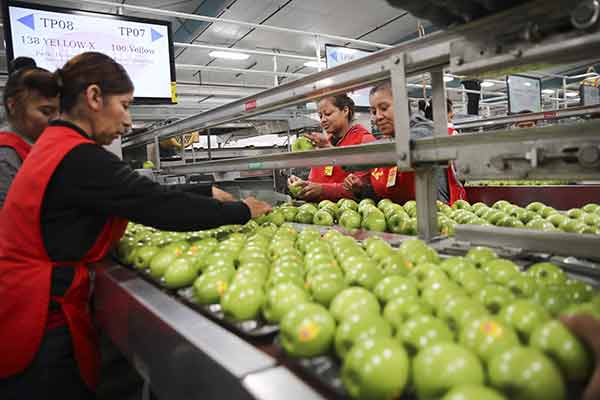 Texas, a state where at least 3.15 million jobs are supported by global trade, will see $3.9 billion in exports — including sorghum and cotton to China, meat products to Mexico and iron and steel to Canada — threatened by the emerging trade war.
Another state, South Carolina, will see $3 billion in exports subject to retaliatory tariffs, with lawn mowers and steel and iron products the hardest-hit.
The estimates are from a new analysis the US Chamber of Commerce released on Monday in protest of the Trump administration's handling of trade disputes by escalating tariffs, which the chamber argues is "the wrong approach" as it risks derailing the US economy and sparking a global trade war.
Using official data from relevant governments, the largest business lobby group in the US outlines the state-by-state impact of retaliatory tariffs from China, the European Union, Mexico, and Canada, which have been imposed in response to new US tariffs on imported goods.
The report comes during a critical week, as the US is set to slap tariffs on $34 billion worth of additional goods from China on Friday. In response, China has vowed to retaliate in kind with its own tariffs on US products, mostly soybeans and other farm produce.
In all, about $75 billion worth of US exports will be subject to retaliatory tariffs as of this week, the chamber said in a statement.
"Tariffs are beginning to take a toll on American businesses, workers, farmers, and consumers as overseas markets close to American-made products and prices increase here at home," said chamber president Thomas J. Donohue.
"Tariffs are simply taxes that raise prices for everyone. Tariffs that beget tariffs that beget more tariffs only lead to a trade war that will cost American jobs and economic growth," he said.
With President Donald Trump defiantly standing by his tariffs, analysts said the impact of the unprecedented campaign launched by the top lobbying group, though traditionally an ally of Trump's Republican Party, could be limited.
Yun Sun, co-director of the East Asia Program at the Stimson Center, a think tank in Washington, said the chamber's action was prompted by the proximity of the tariffs to be imposed, the strong reaction from US trading partners, including Canada and the EU, as well as stock markets' and businesses' reaction to the looming trade war.
However, the campaign "may not influence Trump's determination to levy the tariffs", Sun said.
Douglas H. Paal, vice-president of the Asia program at the Carnegie Endowment for International Peace, said the chamber's drive is a "worthy and necessary" effort.
"But I doubt it will have an immediate effect. Maybe after Trump's tariffs come up short and fail to deliver results, the campaign will register with policy makers," Paal told China Daily.
Euijin Jung, a research analyst with the Peterson Institute for International Economics in Washington, said the chamber's campaign may serve to generate pressure in some key states.
The group's analysis of the harm each US state could suffer from retaliation by US trading partners, including potential job losses caused by a trade war, is likely to draw the attention of business people and farmers in Republican states, where Trump's protectionism agenda was popular during his presidential campaign.
"A timely planned campaign of the US chamber would generate a good amount of pressure on Congress and Trump," Jung said.
Earlier, analysts assumed that the only way Trump would change his approach was if there was a major drop in the stock market or economy.
On Monday, US Commerce Secretary Wilbur Ross said President Trump would not shift his trade policies based on stock market fluctuations.
Wall Street ended higher on Monday after a choppy session, with gains by Apple and other technology stocks offsetting worries about an escalating trade war between Washington and its trading partners, Reuters reported.
"There's no bright line level of the stock market that's going to change policy," Ross told CNBC.
Also on Monday, during a meeting with Dutch Prime Minister Mark Rutte at the White House, Trump said the World Trade Organization has treated the US "very badly, and I hope they change their ways".
Asked if the US would quit the WTO, the president said he wasn't "planning anything now", but if the WTO doesn't treat the US properly, "we will be doing something," according to a White House press release.
By Zhao Huanxin in Washington | chinadaily.com.cn |