Việt Nam, UK to boost coffee trade
September, 23/2016 – 15:44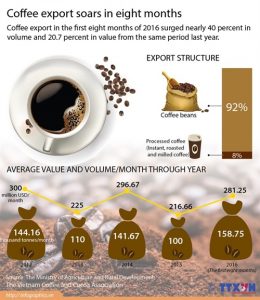 LONDON – Vietnamese and British coffee enterprises are keen on doing more business together, Việt Nam Coffee and Cocoa Association (VICOFA) Chairman Lương Văn Tự said on Wednesday.
Tự was speaking to a Vietnam News Agency correspondent at a roundtable discussion on the coffee business in London.
The seminar, jointly held by VICOFA, British Coffee Association and the Embassy of Việt Nam in the United Kingdom, aims to boost coffee trade between the two countries.
Participants discussed measures to develop and promote coffee production standards in line with the principles of sustainable development. They also talked about the quality of coffee and how export supply chains are organised in producing countries such as Việt Nam.
At the seminar, Vietnamese Ambassador to the UK Nguyễn Văn Thảo pledged his strong support to facilitate Vietnamese market access to UK enterprises. Deputy Minister of Agriculture and Rural Development Lê Quốc Doanh said Việt Nam encouraged foreign investors to pour capital into agriculture, including the coffee processing technology.
Việt Nam is the largest coffee producer in Asia and second in the world after Brazil.
Every year, Việt Nam exports 90 per cent of what it produces with a volume of some 1.3 million tonnes, earning over US$3 billion. In recent years, Việt Nam has increased the export of processed coffee — roasted, ground and 3 in 1.
The Vietnamese coffee industry is focusing more on processing instant coffee, which generates higher profits for the national coffee sector.
Domestic consumption is also increasing rapidly. In 2015, Việt Nam had 17,300 coffee shops nationwide. There are several coffee shop chains in the country, such as Highland Coffee, Trung Nguyên, Mê Trang and Vinacafe. The Starbucks chain has developed at a very rapid pace in Việt Nam.
In 2015, bilateral trade turnover between the United Kingdom and Việt Nam reached $5.4 billion, an increase of 25 per cent against the previous year. The United Kingdom's investment in Việt Nam was valued at $4.7 billion, ranking second among European Union investors.
Việt Nam export turnover to the United Kingdom has been increasing at an average of 20 per cent per year. The main export products include seafood, vegetable, fruits and cashew, as well as coffee, tea, pepper and rubber, along with garments, textiles and shoes. In terms of coffee, the United Kingdom is among the top 10 largest coffee importing markets of Việt Nam. In 2015, the United Kingdom imported some 32,000 tonnes worth $65million.
Coffee exports exceed expectations
Việt Nam's coffee exports in August reached 2.54 million bags (152,678 tonnes), a growth of 9.2 per cent from July, according to the General Department of Customs' statistics.
This number is significantly higher than the market's expectation of 100,000 to 120,000 tonnes, as well as the Government's estimated 140,000 tonnes.
Việt Nam's coffee exports from the beginning of the 2015-16 crop has yielded 1.61 billion tonnes, as of today, an increase of 33 per cent compared with the same period last year.
Experts said Việt Nam's increase in coffee exports in August has contributed to balancing the market in the context of decreasing supply from Brazil, one of the largest coffee producers in the world.
According to the August 2016 monthly exports report by the Brazilian Coffee Exporters Council (Cecafe), the country's export of Robusta coffee in August had declined by 90 per cent compared with the same period last year to a mere 39,327 60kg bags.
Brazil's yield of Robusta coffee was severely affected by the drought in the state of Espirito Santo – Brazil's main Robusta-producing region. Its coffee exports (both Arabica and Robusta) in August reached 2.4 million bags, down by 7.4 per cent from the same period last year.
Nonetheless, compared with July, coffee exports still increased by 46 per cent – the smallest amount in a year.
Nelson Carvalhaes, president of Cecafe, predicted a gradual and sustainable growth recovery for Brazil's coffee exports. – VNS
Source: http://vietnamnews.vn/economy/