Michael Boddington
Managing Director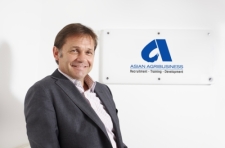 Michael Boddington has twenty five years of Agribusiness experience in Asia Pacific Region. He graduated from Roseworthy Agricultural College in 1987 with a Bachelor degree in Science in Agricultural Studies and has a Master degree in Business Administration from the University of New England.
Since 1988 Michael has been highly engaged in the intensive livestock industry. His career began with PIC, the world's largest swine genetics company. At PIC, Michael was an Asian Business Manager for the Pork Chain Project. Michael was involved in the entry of firms into the Chinese market where he developed an understanding of marketing, pricing and distribution in China.
In 2007 Michael founded Asian Agribusiness Consulting as a boutique advisory business specializing in Chinese and Asian agribusiness markets (intensive livestock, food and animal health). Michael has been a lead consultant and project manager of the firms' market research projects, including over forty animal nutrition and health research projects. Michael has also undertaken projects for private equity and institutional investors to assist in identifying potential acquisition targets in China and Asia and he is a frequent expert for the GLG network.
michael@aartd.com
Our Team
Working hard for our client, enjoying some fun as well !